How can you make your 401(k) stronger? Click below to view the video.
Capital Preservation. It's the reason that employees choose to invest in the money market option offered in their companies' 401(k) plan. Did you know that there is an alternative that steadily outperforms money market funds?
Stable value funds are that alternative. Created specifically for retirement plans, stable value funds are invested in high quality, diversified fixed income portfolios that are protected against interest rate volatility by contracts from insurance companies that in turn lend them their stability. The chart below compares the growth of $10,000 invested in stable value and money market for the ten year period ending 6/30/2017 adjusted for inflation.
Accumulated Value in Constant Dollars, period ending 6/30/2017: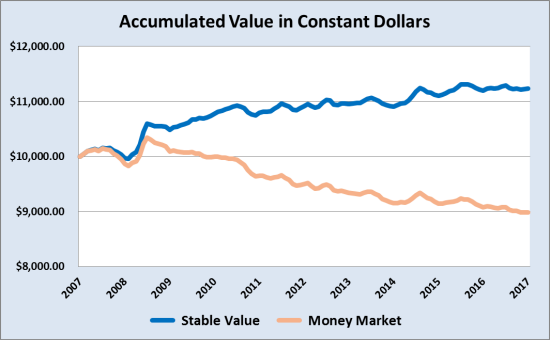 Without adjustment for inflation, $10,000 invested in stable value would have grown to $13,212.05, but in money market only to $10,564.14.(1). Consider how this trend could potentially affect your retirement savings in the long term.
If your 401(k) plan doesn't have a stable value fund as a capital preservation option, speak to your benefits department to request one. Or have your benefits department speak with one of our stable value specialists at 860-768-0068.