MIM serves institutional investors by combining a client-centric approach with long-established asset class expertise. MIM believes in the importance of investing sustainably and incorporating ESG factors, as appropriate, into investment decision making. As a well-established global investment manager, our investment teams are responsible for incorporating financially material ESG factors into their risk management focused investment process. Focused on managing public fixed income, private capital and real estate assets, we aim to deliver strong, risk-adjusted returns by building tailored portfolio solutions that successfully integrate client-specified ESG investment considerations today and beyond.
As ESG integration efforts in our industry evolve, so too will MIM's approach. We seek to review and refresh our ESG Investment Policy at least annually. We work closely with our clients to provide transparency to our approach and adapt it, as needed, to meet our clients' guidelines.

Active Engagement
MIM believes active engagement with company and issuer leadership is key to managing investment risk. Investment analysts regularly interact and engage in discussions with a firm's senior management. Ongoing dialogue helps raise awareness of sustainable business practices. Further details supporting our active engagement practices can be found within MIM's Engagement Policy.
Public Fixed Income
MIM firmly believes that active engagement with company and issuer leadership is key to managing investment risk. Engagement not only provides an opportunity to better understand these risk factors but is an opportunity to educate issuers on ESG topics, improve issuer disclosure and provide feedback that can positively impact sustainability around the world. Beginning with the initial due diligence process and as part of the ongoing monitoring process, analysts engage in ongoing dialogue with senior leadership to assess their business model resilience and responsiveness to the ESG factors impacting their business. Our proprietary Engagement Database is designed to be fully integrated into the research process and to allow each analyst to log and update engagement on ESG factors. The database includes deals that have been rejected due to a negative evaluation of these factors.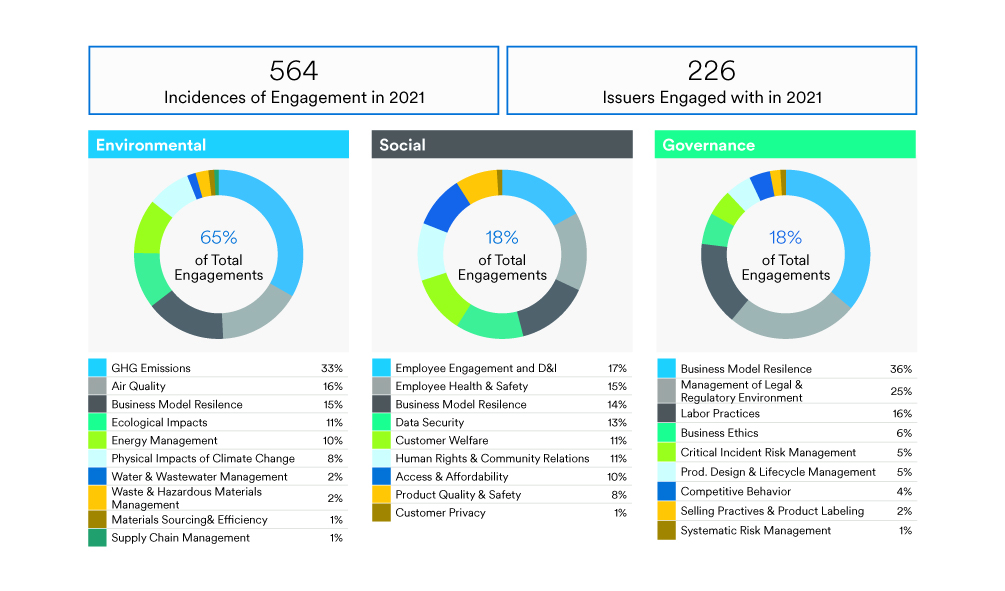 Private Capital
MIM's private capital team sees active engagement with investee companies and projects as key to both its initial underwriting process and ongoing portfolio management. When considering a potential investment opportunity, our credit analysts meet directly with the company's senior management team to understand the sustainability of the company's business model as well as management's philosophy and how ESG risks are managed.
MIM's private capital team's due diligence efforts continue from any soft commitment date through our internal approval processes and finalization of documentation to funding date. If adverse findings are identified, we may pursue appropriate measures, which could include corrective action by the issuer, requirement of improved terms and conditions or not proceeding with a transaction. Similar to MIM's public fixed income team, MIM's private capital team has developed a systematic approach for tracking engagement activities, which involves analysts logging their engagement conversations into a customized platform designed specifically to track these activities.
Real Estate
MIM has been involved in real estate since 1878, and today provides debt and equity origination and asset management capabilities across offices in the U.S. and international markets, including the U.K., Japan, Korea, Chile and Mexico. MIM embraces our role as a responsible real estate investment manager and lender. We understand the impact buildings have on people, communities and the environment. We also know that issues such as climate change, regulatory environments and building operational efficiencies will increasingly impact lending decisions and financial performance.
MIM offers investors strategies that seek to achieve income growth and capital appreciation by investing in competitively positioned properties in markets with favorable demand drivers. Multiple MIM equity portfolios have achieved 5-Star status and been designated as "Sector Leaders" over the past two years in the Global Real Estate Sustainability Benchmark (GRESB).1
Our commercial mortgage loan business has a focus on office buildings, retail centers, apartment complexes, industrial properties and hotels. For example, MIM originated a $180 million commercial mortgage loan on Heron Water Street, a newly built LEED Gold apartment building in downtown Tampa, Florida, in the heart of the world's first WELL2 pre-certified neighborhood, Water Street Tampa, which envisions a sustainable and environmentally friendly community. The property includes smart thermostats, WaterSense plumbing fixtures, solar shades, Energy Star appliances, electric vehicle charging stations and a bike storage and repair room.
Agricultural Lending
As part of our ongoing efforts to continually strengthen our risk assessment and management processes, MIM expanded its agreement with AQUAOSO, a water risk software system. MIM's digital sustainability analysis of agricultural loans now includes Arizona, California, Oregon and Washington. The AQUAOSO software allows enhanced insight into the risks associated with borrowers' land and land practices by providing on-demand research and custom reports based on proprietary and public data.