Empowering Women with the Global Women's Initiative
Cindy Pace, assistant vice president, Diversity & Inclusion, travels across the world to educate associates and leaders on the importance of our Global Women's Initiative (GWI). Here, she shares the impact of the GWI and MetLife's commitment to providing opportunities for women in the workplace.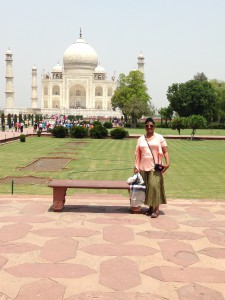 Big. That's how I describe one of my most memorable moments at MetLife. Elizabeth Nieto, global chief diversity and inclusion officer, and I traveled to Gurgaon, India last year to meet with employees at PNB MetLife. The PNB Diversity & Inclusion (D&I) ambassadors — all women from small villages and towns, and for many, their first experience in a corporate office — invited us to be part of their efforts around D&I in the workplace.
The ambassadors and senior leaders in the office organized an event with Elizabeth and me. While standing on stage with these ambassadors in front of a large group of employees, Elizabeth and I presented the ambassadors with scarves as a token of our appreciation for their hard work. That's when it hit me. We didn't have to explain to this group the importance of what we do. They already got it. I saw accountability    and ownership of their work and was moved by how they valued our mission.
Research shows that in the next 20 years, more than one billion women will enter the workforce.
When you look at economic forces happening now, women are the largest emerging market next to China and Brazil. Here at MetLife, we had the foresight to pay attention to what the global trends were showing us, and look at our customer base. A large percentage of our customers are women, and women are a large representation of the MetLife workforce. That's why we created the Global Women's Initiative (GWI). It just makes business sense to attract and identify the best female talent. We take it a step further and give them the tools to flourish and thrive while working here at MetLife.
When Elizabeth and I visit MetLife offices around the world, we do a presentation titled "Why Women in Global Leadership Matter." We give this presentation for the same reasons we started the GWI, but we also want people to know that MetLife is part of a societal shift, and with this huge transformation that's happening globally, we need to ensure our women associates understand some of the myths behind becoming a leader. We're myth busters. We help women understand they can break out of what people say they can't do.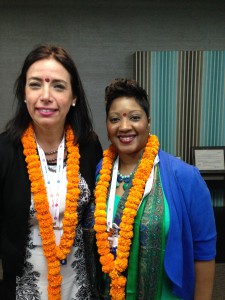 In my role, I realize one of the most important things I can do is listen. Listening helps me understand what MetLife needs. I've been working as a practitioner in this space for more than 10 years. It's easy for me to come in and do what I think I know. Listening requires me to suspend acting on previous success I've had elsewhere and focus on MetLife needs. What MetLife needs comes from what people are telling us and what we are observing. Observing allows us to discover what associates are not communicating verbally. In some of the countries we visit, it's not the cultural norm to speak up or openly share thoughts. As our female associates gain self-confidence and begin to share their stories with us, I begin to notice the impact our work is making on these women — not only on them, but also on the business leaders in these countries. Knowing how far our efforts reach is the icing on the cake.
From Morristown to India, Brazil to Korea, Dubai to Warwick, I'm fortunate to have these travel experiences. However, I know there is great responsibility when visiting other countries. I am serious about being a culturally fluent leader. I do my research before I travel to become aware of the cultural norms and preferences that may differ from my own. It's a combination of understanding the business and the people. When you create a comfortable and trusting environment, people are open to sharing insights on their professional and personal lives.
We are looking to make an impact on not only who they are within the organization, but also who they are in their communities. As these women gain and develop new skills through the GWI, we are also enhancing their roles as mothers, sisters and aunts.
Here's my takeaway from the unique experiences I've had in my role: I'll try any new food, we have amazing women working at MetLife and lastly, our leaders truly recognize the talent they have and want to help them succeed. I've witnessed women who've taken part in our programs blossom into amazing leaders who are now GWI ambassadors and truly care about supporting development across the board – not just for women, but for all their team members. I'm proud to have a front row seat to their growth and accomplishments.
Meeting and speaking with women from across the globe is like receiving a gift and having someone say thank you for your contributions. I can hear and see the excitement when they share with us how our support benefits their career or provides a new opportunity for growth. That's special. For me, having women in leadership roles is about the quality of their experience and their ability to make a positive impact and thrive at MetLife.
---
MetLife is honored to participate in this year's Global Summit of Women, a business summit focused on women's advancement in the global community, taking place May 11 – 13, 2017 in Tokyo, Japan.