Need a Lawyer? Your Employer Could Help
Posted: September 30, 2016
Buying a home, protecting your assets, planning for the future — these things come with so many documents to sign, agreements to draw up, and forms to file that it can make your head spin. If you want to make sure your paperwork is handled correctly, you may need to enlist the help of a lawyer.
Unfortunately, not everyone knows where to begin. According to a recent Harris Poll, more than half (54%) of working adults feel unprepared to handle unforeseen legal events. Their top concerns are finding an attorney when they need one and paying for one.
That's where a pre-paid legal plan, offered by many employers, can come in handy. "Group legal plans provide employees access to attorneys for help with common legal issues, like drafting wills and power of attorney documents, buying and selling a home and identity theft matters," said Ingrid Tolentino, CEO of Hyatt Legal Plans. "The results [of the Harris Poll] show that [people] are in need of affordable access to attorneys for help with these issues."
Legal Issues at Every Life Stage
At some point, virtually everyone will need to deal with a legal issue. There are important legal implications associated with many common life events:
Buying a home: Reviewing and drafting documents related to home purchases
Getting married: Drafting wills, estate planning for naming a spouse as an executor of your estate
Managing finances: Dealing with ID theft and debt collection issues, planning for the future
Having a baby: Estate planning to care for your family
College Issues: Dealing with rental agreements, leases, student loan and credit card debt problems
Retirement: Updating/reviewing estate planning documents, power of attorney and living wills
Aging parents: Providing caregiver assistance, reviewing nursing home contracts, answering questions about Medicare/Medicaid
Legal Fees Can Add Up
Here are some of the typical costs of paying for an attorney for common legal issues: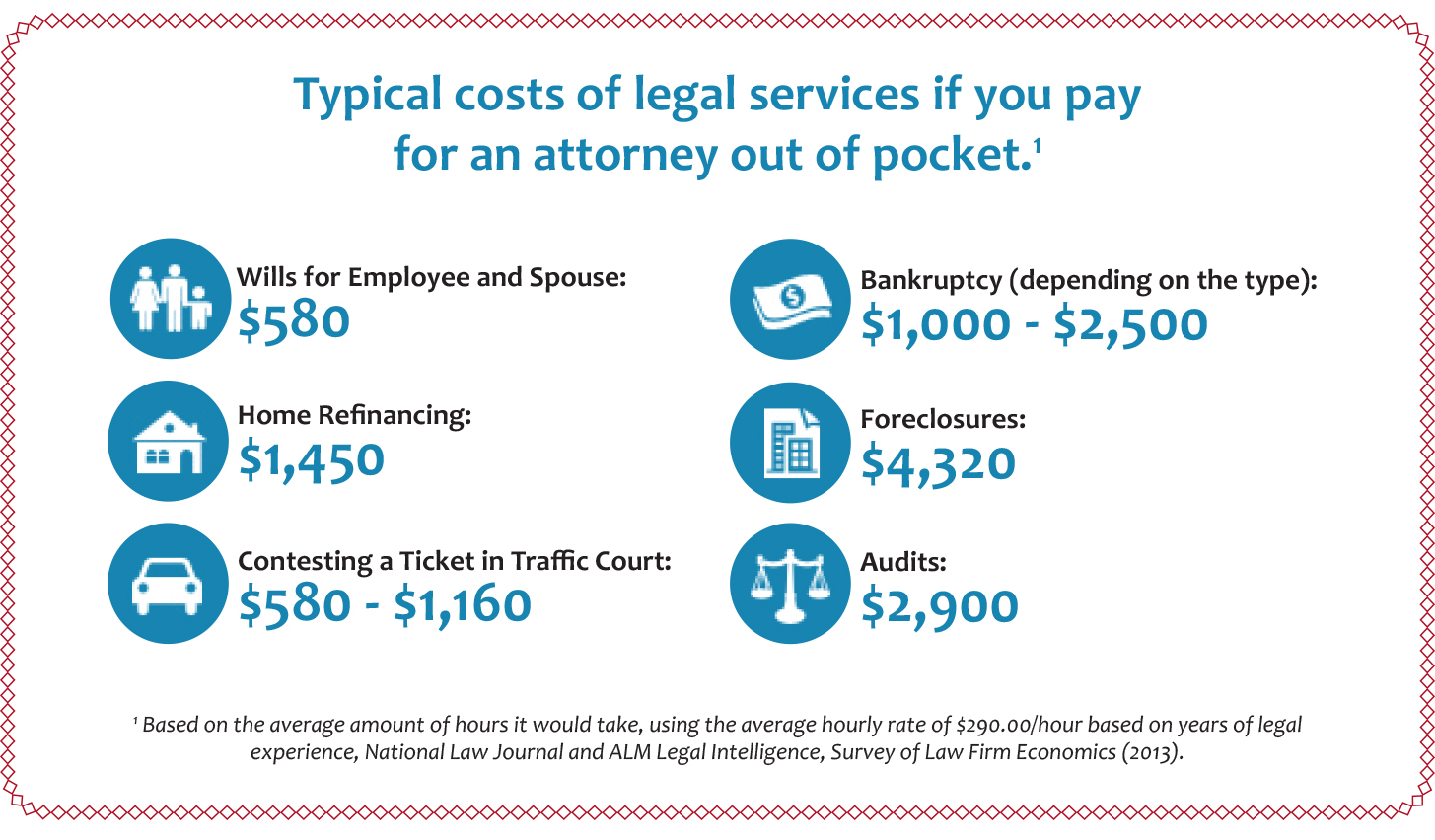 The annual cost of a legal plan varies by employer, but the average is around $240 per year, which may be a better alternative to paying these costs out of pocket.
In-Network and Out-of-Network Lawyers
Like a health insurance plan where individuals can choose their doctor from a network or outside of a network, a legal plan typically gives members access to attorneys of their choice, in or out of network. But unlike health insurance, there are no copays, deductibles or waiting periods, as long as the member is using an in-network attorney for a covered service. There are usually additional costs associated with out-of-network services, which may be reimbursed.
Should You Enroll in a Legal Plan?
An honest assessment of your needs as well as knowing the specifics of your employer's plan can help determine whether a legal plan is a good choice for you.