Making a Difference in Vietnam
Nandika Madgavkar, Corporate Citizenship, shares her experience visiting MetLife Foundation partners in Hanoi and Ho Chi Minh City in Vietnam to learn more about the country's financial growth and development.
Vietnam is long and narrow, hugging the South China Sea – and I traversed the length of it on my recent trip to meet with MetLife Foundation partners and my colleagues from BIDV-MetLife.
Vietnam, like most emerging markets, is multi-faceted. As of 2014, it has an estimated 90.5 million inhabitants, making it the world's 13th most populous country. Sky-scrapers co-exist with majestic colonial buildings, and well-to-do neighborhoods provide a stark contrast to congested poor communities. Since 2000, Vietnam's economic growth rate has been among the highest in the world. There is a constant sense of urgency, industry and movement. Hawkers peddling traditional Vietnamese handicrafts jostle for space with those selling Louis Vuitton and Prada purses.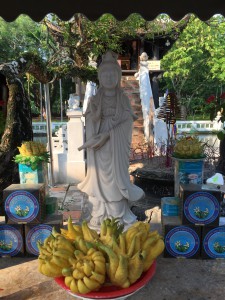 This industriousness manifests itself in an extraordinary number of microenterprises across the country – small "Mom and Pop" operations selling lunch, groceries or other fast moving goods. To finance those businesses, low-income individuals have recently turned to a number of microfinance institutions [MFI], which have proliferated across the country.
Financial inclusion is core to MetLife Foundation's strategy, and strong value is placed on providing quality research and financial services to those who need it most.
In Hanoi, MetLife Foundation funds the Vietnam Microfinance Working Group, an organization primarily focused on research and dissemination of best practices in microfinance, and in Ho Chi Minh City, they fund the Capital Aid Fund for Employment of the Poor, more commonly known as CEP, a non-profit institution founded by the Labour Confederation of Ho Chi Minh City, to create employment and income-generating opportunities for poor families through the provision of credit.
My visit with the Vietnam Microfinance Working Group began with lunch. Perhaps, I did overeat on this trip but it was hard not to. Vietnamese cuisine is tasty and healthy – aromatic herbs and a variety of pho's (soups) and protein make the food hard to resist – and the amazing hospitality makes it even harder!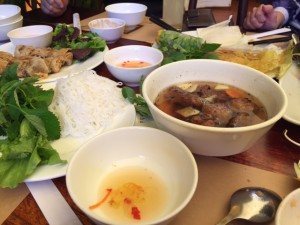 After lunch, I sat down with Ms. Mai Tuyet Thi Nguyen, Managing Director of the VMWG, to talk about how research is informing the microfinance industry in Vietnam. With a growing number of microfinance organizations, there is now a growing need to ensure the professionalization of the industry and the safety of low-income borrowers. A compliance and risk management structure around these organizations is essential. The VMWG team is doing field work and research to understand the needs of the organizations and ensure that appropriate training is available. This work will also provide comfort to policy makers, ensuring regulations meant to protect consumers won't stymie the ability of the MFIs to actually provide quality financial services.
That evening, a 2-hour flight on Vietnam Air led me to Ho Chi Minh City, the largest city in Vietnam. Ho Chi Minh City is no longer the Saigon of Graham Greene's, 'The Quiet American,' but there is still an indisputable charm to the old buildings and meandering streets, the open-air cafes and the broad boulevards of District 1.
There are two things that stand out vividly for me in Ho Chi Minh City – the War Remnants Museum and my visit with Ms. Van Hoang Thi Nguyen, Managing Director of the Capital Aid Fund for Employment of the Poor.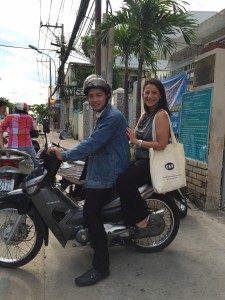 The mission of CEP is to provide credit to poor families, and to create employment and income-generating opportunities. I received an on-the-ground look at microfinance in action. Driving by car to District 8, a poorer and more densely populated district, we were met by the local CEP branch manager, the client relationship manager, and a communist guard. Introductions were exchanged, and I was getting ready to get back in the car when I was told the only mode of transportation to the area was via motorcycle! I jumped on and off we went.
We drove through the labyrinthine lanes of District 8, and arrived to meet Ms. Hoa, a 47-year old woman, married with two sons, one of whom is also married with a small baby. Ms. Hoa and her extended family – eight people in total – including her 80-year-old mother and a chronically-ill sister, live in a small rented house, which is around 270 square feet in size and costs $200 per month to rent. While the adult members contribute towards the living expenses, it is tough to make ends meet on their income.
Ms. Hoa is working to grow her family's income by selling Vietnamese snack foods from a stall outside a local school. Her husband helps her when he can, in between his work as a motorcycle taxi driver. Her hard-working assistant is her mother who also sells bread outside their home to earn additional income for the family, and helps out at the stall in the afternoons when school ends for the day. Together, they make between $28-35 per day – approximately $100 per week. Much of the family's income is spent on medical care and rent and while they qualify for some financial help from the government, it doesn't cover all their costs.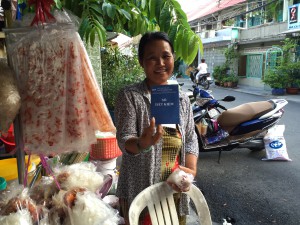 Ms. Hoa has taken three loans, totaling $710 from CEP since joining at the beginning of 2014. Each loan has been repaid in 40 equal installments over a period of 40 weeks. She used the first loan to establish her business, and her subsequent loans were used primarily for working capital, and to cover some large household expenses.
Some believe that all microfinance funds should be used primarily for business – it makes sense since the goal is to improve small businesses. However, the reality in low-income families' lives is that sometimes household needs – a hospital visit, paying for school fees and uniforms, fixing a broken motorcycle – must be taken care of, or they threaten the family's overall goals. In this case, the ability for someone like Ms. Hoa to borrow for personal needs, knowing that she can repay the loan from her business, allows the family to improve their quality of life.
Since 2014, Ms. Hoa has also been able to deposit around $3 in savings each week with CEP and she currently has a total savings of $215. This saving certainly isn't easy for Ms. Hoa, as family and business needs are many. But she is convinced that having these savings is essential to her family – for emergencies and for future goals – to ensure her grandchild's education, and perhaps to upgrade her business.
From 7 a.m. to 8 p.m. Ms. Hoa is at her stall and at night she and her family members prepare the ingredients they need for the next day. I asked her, "I know this must be hard, you have a lot of responsibilities. Do you ever get disheartened?" And, she said, "No, not really. I have a steady income and CEP is a great source of comfort and support to me."
According to Ms. Van, there are thousands of micro-entrepreneurs like Ms. Hoa who are helped by CEP's local branches. In Ho Chi Minh City and the Mekong Delta, CEP is looking to expand their outreach to meet this growing need. Ms. Van, who has been with CEP since its inception, is a driven woman. She has important issues to tackle and she does it with energy, humility and good humor.
Vietnam is developing at an astonishing pace with the help of these important local financial organizations. It was inspiring to see a country buzzing with economic progress at all levels – old blends with new, modern with the traditional. It is a country whose people believe in strong community and family values and all are welcomed with warmth and graciousness. I hope to go back one day with my family – till then "tam biet!"