Community Support
Delivering Peace of Mind to Working Families
3 min read
April 27, 2020
In 2018, community college instructor, Renee Thompson*—managing a chronic illness, in-and-out of work on medical leave, and struggling to keep up with her mortgage and student loans—found herself mired in credit card debt.
And then Bridget Tate, a financial coach with Change Machine—a nonprofit dedicated to building financial security for working families—arrived during a campus-wide initiative to speak to some of the students.
Bridget first worked with Renee's class, and eventually Renee herself.
It seemed implausible—at least until the 15-year financial services veteran and seasoned financial coach helped Renee find a way to cut her student loan payments in half and glean hundreds of dollars in further savings by proactively tracking her spending.
"Coaching helped me find a new way to look at my finances instead of feeling defeated," Renee says.
To reverse this, Change Machine is steadily narrowing the gap between the financially underserved and the tools necessary to turn intentions into successful fiscal action—like more frequent deposits into savings, lower credit utilization, increases in credit scores, and decreased levels of financial stress.
Financial coaching is key to building financial security, especially when embedded in programs serving groups of people looking to achieve better financial health. Renee works at a community college, where students typically juggle multiple jobs along with school, have families they support and are trying to create income opportunities for themselves by obtaining more education.

"Financial coaching is client-driven," Bridget explains. "A student may have a lot of new debt and not know where to begin to tackle it. Together, we look at income and expenses and determine if they are getting all of the support they can access."
DeWayne Wilkerson— a student at the college, looking for ways to support himself and his daughter—reached out to Bridget. Once in touch, she asked about DeWayne's view of savings accounts, checking accounts, spending habits, and goals before offering up a tailored selection of realistic and holistic options.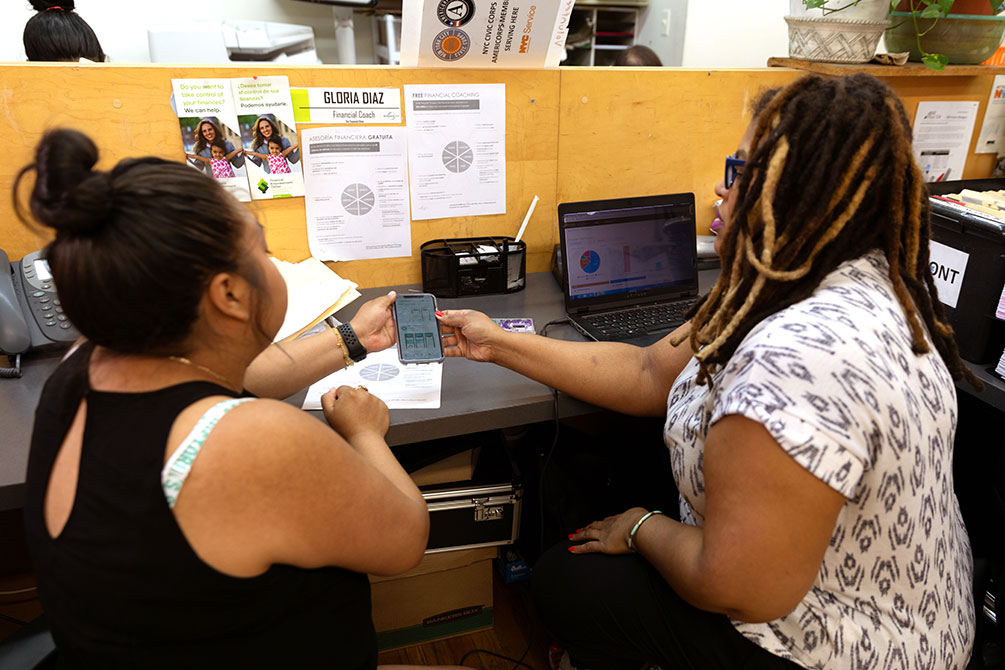 So how does Change Machine leverage the power of coaching while also making it available to more low-income people like Renee and DeWayne? The answer, in part, is an interactive, digital platform where client-facing staff at nonprofits and schools can learn best practices and access resources that improve their ability to ensure client success.

"Poverty can be really isolating, and we wanted to create a community for individuals and frontline staff using the platform," says Change Machine Chief Program Officer, Haidee Cabusora. "For the more than 1,000 users who are on it, there are high-quality and relevant best practices across the country."
"It's not always sustainable to have a person whose sole job is one-on-one coaching," adds Sarah Willis, Director of Financial Health for MetLife Foundation. "Putting what we know into a system that anyone can use, creates just-in-time opportunities for effective coaching to their clients. Everybody wants to reach large numbers of people, and this program helps financial coaches do that – it's the perfect blend of tech and touch."
Through partnerships with cutting-edge, impactful organizations such as Change Machine, MetLife Foundation is proud to support people and communities toward building better financial health. 
"The work is bigger than just Change Machine," Bridget says. "I'm happy to be a part of writing that story in a way that's effective and impacts long-term change."
*Name has been changed to protect the individual's privacy.
Interested in more Financial Wellness Insights?