Are you planning to enroll in a dental or health insurance plan during the open enrollment period for 2024? If so, you'll likely receive a new insurance card. Insurance cards contain important information, provide proof of insurance, and help ensure you're charged the right amount for care. They also help your healthcare providers keep your insurance information up to date. However, it can be difficult to read an insurance card or know where to find certain important information. Here are some helpful tips for reading and understanding insurance cards.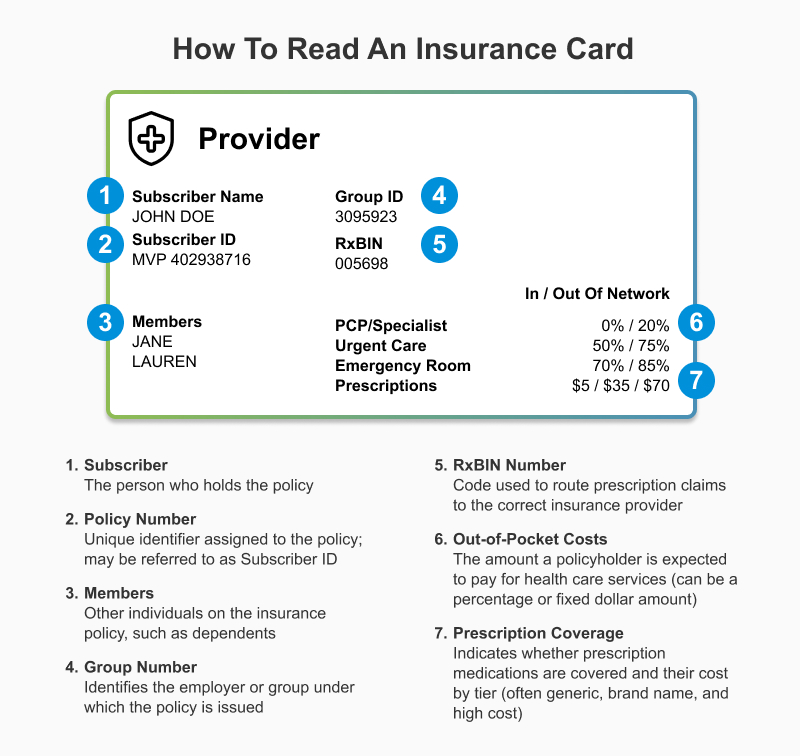 Reading an insurance card
Insurance cards may contain different information based on the insurance company and type of plan you choose. However, most cards include this information:

Personal information
Most insurance cards include your name and policy number. If you're covered under your spouse's or parent's plan, your card may include their name, too.
Policy number
The policy number on your insurance card is a unique code associated with your insurance plan. Your insurance company uses your policy number to track and process insurance claims and costs. Policy numbers may also be referred to as subscriber IDs or member ID numbers.
Where is the policy number on an insurance card?
Typically, you can find your insurance policy number on the front of your card. It may be marked as "Policy #" or "Policy ID." If you're unable to locate your policy number, reach out to your insurance provider for assistance.
Is a policy number the same as a member ID?
Still not sure about the difference between your policy number and member ID? These terms are often used interchangeably to refer to the code assigned to your insurance policy. As a result, you may see one term on your insurance card and not the other.
Insurance group number
If you have insurance coverage through an employer, your insurance card will likely have an insurance group number, also known as a group plan number.

Like your individual policy number, the group number on your insurance card is a code assigned to your employer's insurance plan. Your insurance group numbers help insurance companies identify the benefits included in your employer's plan and process claims effectively.
Copays and coverage amounts
The coverage amount refers to how much of your healthcare costs your insurance company will pay. You can usually find this information on the front of your insurance card. Coverage amounts may be listed as fixed dollar amounts or percentages, such as 25%, 50%, or 75%. Often, several amounts are listed together and may correspond to different types of treatments or office visits.  You may also see additional information regarding copays and in-network or out-of-network care. Let's take a closer look at what these terms mean: 

Copays
A copay is a fixed dollar amount you're required to pay out-of-pocket for certain types of care or treatments. Also known as a copayment, copays vary based on the type of plan you have, the kind of treatments you receive, and whether you use an in-network or out-of-network provider.
You can typically find copays listed on the front of your insurance card.
In-network and out-of-network coverage
Your insurance card may list two coverage percentages for in-network or out-of-network providers. In-network providers are those who have a contractual agreement with your insurance company to provide lower-cost services and treatments. Visiting an in-network provider often results in lower expenses compared to visiting an out-of-network one. For most plans, you can still see an out-of-network provider if you choose to do so. However, you'll likely pay more for out-of-network care. Contact your provider for more information on in-network and out-of-network providers, along with the costs associated with each.